Global Pool Products RIP TIDE Inground Swimming Pool Water Slide Deck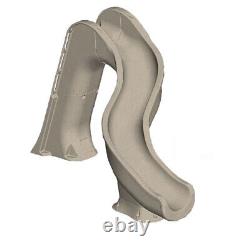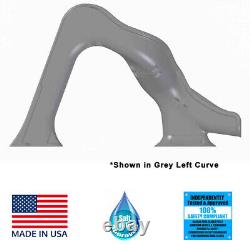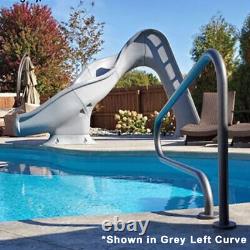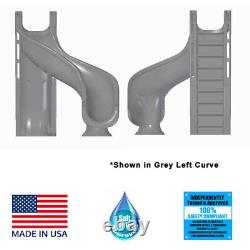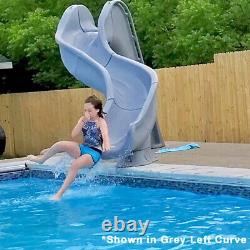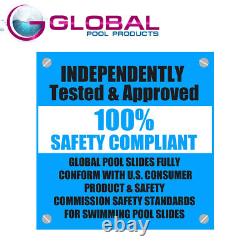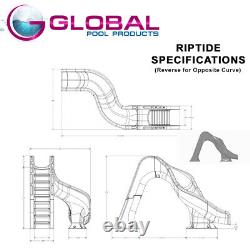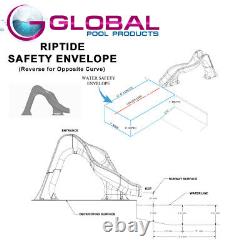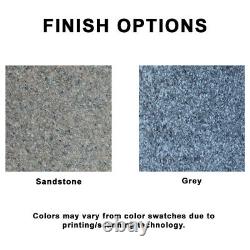 Sign up to receive special insider notifications of deals, promotions, and new items! Global Pool Products RIP TIDE Inground Swimming Pool Water Slide Deck. ERGONOMIC DESIGN: This pool slide is designed with a safety sitting transition. It has a large base for added stability and a deep and wide flume for a secure ride. SECURED: Its material provides a stable structure. It is also built with molded handrails to accommodate all riders and enclosed plumbing for a neat finish.
Required deck space is 12'-5" x 6'-4". Safety is our number one priority! Global Pool slides fully conform with U.
S consumer product and commission safety standards for swimming pool slides. HEAVY DUTY SLIDE: This slide is rated for a maximum of 275lb. (124 kg) for its riders. Our multi-point anchoring system allows the Rip Tide to accommodate most geographical regions. QUALITY MADE: Made in the USA!
Adult supervision is required at all times when children are using the Rip Tide slide. Global Pool Products Rip Tide slides are made for in-ground residential swimming pools. The slide can be used in most places thanks to our multi-point anchoring system. Maximum weight capacity for the slide is 275 pounds. 124 kilograms for the riders. The slide is made of strong, long-lasting roto-molded material and has plumbing that is enclosed for a neat finish. The stepping stool is encased with nine (9) adapting style ventures for a protected and simple climbing. A 25 gpm hose made of PVC measuring 1 is used to deliver water to the flume. Stainless anchor studs with hardware measuring 12 inches in diameter hold the slide to the pool deck.
Sandstone or Grey Granite finishes are available for the slides, and an LED lighting package is an option. To make sure we get the order to you as fast as possible, orders are processed as soon as they come in. We cannot guarantee that any order can be cancelled once placed and processed. Included in this but not limited to are Heat Pumps, Gas Heaters, Large Filters, Slides, and Diving Boards.
These products are delivered to the front of the driveway, not to the garage or installation site. The trucking company is not responsible to transport your items anywhere other than the front of your driveway. In this circumstance, we will call you with the additional charges. To help make this process as smooth as possible please follow these guidelines. Sign Bill of Lading (receiving bill). This document says that the order has been received. This all states that the order has arrived in good condition. It is the customer's responsibility to inspect all packages received. This document also states the number of cartons you are receiving, please make sure this number is the same as the actual number of cartons received. It is your responsibility to make sure your order is in good condition upon receipt.
Backyard Pool Superstore is here for all of your pool and backyard needs. Here at Backyard Pool Superstore, we understand that mistakes can be made.
The packaging must be resealed with. See below for more details. When you sign for the product, you state the product arrived in good condition, and you accept the condition it was delivered in. Our staff is dedicated to making sure your experience with us is not only good, but the best! We are not just "Internet retailers", we are pool and backyard professionals that have been in business for over 20 years.
We pride ourselves on fast, professional customer service. We use the latest technology to assist you with your pool, spa, patio, and backyard needs. The Best Customer Service and Expert Advice.
With many years of experience in all aspects of the pool and backyard industry, we are here to help you with all of your questions. If one of our staff members cannot help you immediately, we will not rest until we find an answer to your question.