Free-Form/Kidney-Shaped Safety Mesh Swimming Pool Cover- USA MADE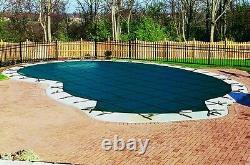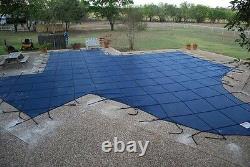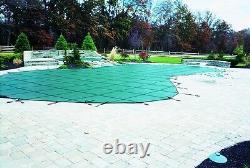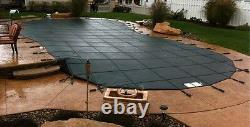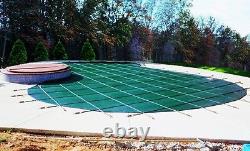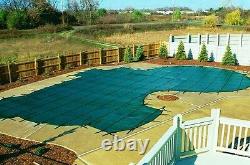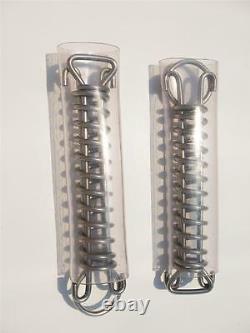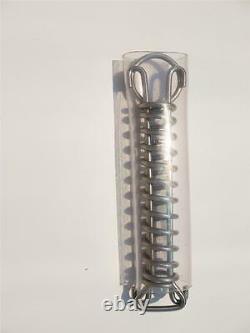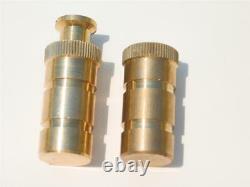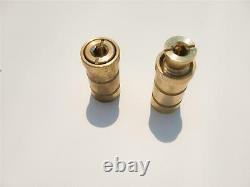 Safety Mesh Pool Cover For Kidney-Shaped or Free-Form Pools: Max Size 18' x 36. This listing is for kidney-shaped or free-form Safety Mesh Pool Covers. We will make a New Safety Mesh Pool Cover to fit your pool as long as it does not exceed 18 feet long or 36 feet wide. A free-form pool is generally any. There can be curved sections, straight sections, angled sections, etc.
These covers are CUSTOM-MADE specifically for your unique pool shape which means they will take a few weeks to manufacture once you provide the correct measurements. There must be at least 18 of concrete deck space surrounding the entire pool. This cover requires a level concrete deck around the edge of the pool. Your pool must not have any elevation changes or obstructions at least 3' from the edge of the water. This means there can be no waterfalls, slides, rocks, steps, etc. Around the pool which would get in the way of the required overlap.
There must not be any reason for cutouts in the cover. Here's What You Get!
Assembly provides straps on BOTH sides of the cover and it will not allow the straps to stretch and distort the the pool cover fabric. Preventing the cover from stretching is a good precaution in all circumstances, and it is a MUST if snow weight is a factor. Just put the cover on your pool and forget about it!
Twice as strong, Twice as reliable. Anti-abrasion strips are included on the underside of straps where strap-to-deck contact is made. This prevents premature wearing out of the cover at critical wear points.
Heavy Duty Stainless Steel Springs. These Heavy Duty Stainless Steel Springs WILL NOT CORRODE or lose their tension. The steel springs are sleeved with a heavy duty vinyl cover to protect your toes and your swimming pool cover.
These Stainless Steel Buckles WI LL NOT CORRODE & they Provide Extra Strength. Retractable Heavy Duty (Flush mount) Brass Anchors.
Retractable Heavy Duty (Flush mount) Brass Anchors for concrete & Anchor Setting Tool. Also, Allen Wrench (fits in top of Brass anchor to unscrew center so end of spring can attach) When your New Pool Cover is not on the pool, there's nothing to trip over as the anchors are totally retractable. A Strap Installation Tool is included to allow easy attachment of the steel spring to the brass anchors. This simple tool makes placing AND removing our Ameri-Covers a simple process. Heavy Duty "Breathable" Storage Bag.
A Heavy Duty "Breathable" Storage Bag is included in order to store the cover when not it's in use. The first 3 years are 100% while the last 27 years are prorated. Exceptional Design Team and a Cover Guaranteed to Fit.
We have the absolute best design and manufacturing team around. Need a complicated cover designed specifically for you? Let us show you what we can do! We believe the Ameri-Cover Mesh Safety Pool Cover from Ameri-Brand Products Inc.
Is the best in-ground pool cover available on the market today. Our covers begin with high-burst strength, 100% polypropylene mesh which is bolstered by straps of double webbing which run along the top and bottom of each cover. If you combine our quality materials with skilled design and manufacturing then you get a well-designed, high quality, USA-MADE Safety Pool Cover which is second to none. Safety Mesh Swimming Pool Covers. Our Safety Mesh Cover is a true safety cover.
Been officially tested by an independent laboratory (InterCity Testing and Consulting) and was found to meet and exceed the American Society for Testing and Materials (ASTM) F1346-91 specifications. Our safety mesh pool covers passed the established performance tests with flying colors. And each cover comes with a real ASTM testing certificate on the cover. These covers provide a non-slippery covering surface. Due to being a mesh fabric, they also allow water to drain through the cover which helps prevent drowning accidents.
Mesh covers are an excellent way to ensure safety at your pool and to give peace of mind. Our pool covers are designed to "tension" over the water and to not rest directly on the surface of it. The Safety Mesh Pool Cover is constructed of 100% polypropylene which is a material that has an exceptionally high bursting strength. For safety, this is the best type of fabric you can use. Mesh covers are available in green, dark blue, black, tan, and gray. Our anchors are made from solid brass and consist of a "barrel" which is secured into the deck and a threaded "pop-up" center insert. The top of the insert has an area directly above the threads that accepts the circular end of the retaining/tensioning springs.
When the pool cover is not in use, the insert is screwed down into the "barrel" with a tool which is provided with your new swimming pool cover. This leaves the deck totally free of obstructions and tripping hazards. All needed anchors are provided for your Safety Pool Cover. The springs are made of stainless steel and are sleeved with a heavy duty vinyl to protect both your swimming pool cover and your toes.
A specially designed tensioning tool is included with each cover to allow for easy application of the cover and to get proper tensioning. Our Nylon Webbing & Strapping is designed to support the entire cover tightly over the pool. With the webbing running both ways on the pool cover, we achieve proper tensioning and it gives the cover a uniform appearance. The strapping is secured to the springs with our Heavy Duty Stainless Steel Buckles which lay out flat on the deck. The loose end of the springs is tensioned over the brass anchors to install the cover.
The webbing is sewn on both the top and the bottom of your cover! Many companies use a much thinner webbing and only place it on one side of the safety cover. If you're searching for discount sale prices and the best online bargain pricing then try our online store. We offer coupon-less sales that will help you shop and get what you need at a low cost.
We're proud to be a favorite stop for do-it-yourself (DIY) enthusiasts and professional dealers alike. Looking for replacement parts, accessories, and/or instructions/guides on how to repair or fix a used or older item? Our web pages will provide the latest top quality information and product education. Need an installation manual on one of our products? Our online pages provide step by step details that can help you install them.
Thank you for your interest in Ameri Brand!! Refer to the picture below for a visual guide of the process. Ameri-Brand Products Inc, serving the area & communities of New York, Los Angeles, Chicago, Houston, Philadelphia, Phoenix, San Diego, San Antonio, Dallas, San Jose, Detroit, Indianapolis, Jacksonville, San Francisco, Columbus, Austin, Memphis, Baltimore, Fort Worth, Charlotte, El Paso, Milwaukee, Seattle, Boston, Denver, Louisville, Washington DC, Nashville, Las Vegas, Portland, Oklahoma City, Tucson, Albuquerque, Long Beach, New Orleans, Cleveland, Fresno, Sacramento, Kansas City, Virginia Beach, Mesa, Atlanta, Omaha, Oakland, Tulsa, Miami, Honolulu, Minneapolis, Colorado Springs and Arlington Wichita, Santa Ana, Anaheim, St. Louis, Missouri, Pittsburgh, Cincinnati, Raleigh, Toledo, Aurora, Buffalo, Riverside, St.
Paul, Corpus Christi, Newark, Stockton, Bakersfield, Anchorage, Lexington-Fayette, Louisville, St. Petersburg, Plano, Norfolk, Birmingham, Lincoln, Glendale, Greensboro, Hialeah, Baton Rouge, Fort Wayne, Madison, Garland, Scottsdale, Rochester, Henderson, Akron, Chandler, Chesapeake, Modesto, Lubbock, Fremont, Glendale, Montgomery, Orlando, Chula Vista, Durham, Shreveport, Laredo, Yonkers, and Tacoma. Don't see the item you need on our listing?
Or maybe you would like to request a specific size of safety mesh pool? Be sure to visit our.
Pages to find out more about. Us and the products that we offer to our valued customers. Also, don't forget to view our other listing. On swimming pool covers, boat covers, bimini tops, bmw car covers, parts and accessories for paintball, supplies for domes, and supplies for tonneau covers. These items are all new and make excellent birthday or Christmas gifts.
In 1996, we began our first internet foray as a company. We may not have been named Ameri-Brands Products Inc. Yet, but the ability to reach out to millions of potential customers via a single low-cost medium was very appealing to us.
In 1998, Ameri-Brands Products was formed, and in 2003, we became Ameri-Brands Products Incorporated. Since our first adventure in 1996, we have grown from a simple internet retailer (working in limited quarters) to owning our own office spaces and manufacturing facilities. Oroville, California is our base location and it is where many of our products are designed and made. Thanks to you, all of our original goals and expectations have been met and greatly exceeded! This year we fully expect to serve many more. We attribute our success to the following. An Extremely Knowledgeable Full-Time Staff. What do we specialize in? If you're searching for discounted prices and you want the best online bargain pricing, you're in the right place! We invite you to compare the quality and value of our merchandise to anybody else's. We offer what you need at a low cost, and we're proud to be a favorite stop for DIY(Do-It-Yourself) enthusiasts and professional dealers alike. To check out some of our other quality products!
Thank YOU for checking out our ad and making us who we are! The item "Free-Form/Kidney-Shaped Safety Mesh Swimming Pool Cover- USA MADE" is in sale since Wednesday, April 10, 2019. This item is in the category "Home & Garden\Yard, Garden & Outdoor Living\Pools & Spas\Pool Equipment & Parts\Pool Covers & Reels". The seller is "ameri-brand" and is located in South Elgin, Illinois. This item can be shipped to United States, Canada.
Cover Function: Safety
Type: Cover
Pool Type: In-Ground
Cover Material: Mesh
Brand: Ameri-Brand Products Inc