Swimming Pool Pump 3 HP for up to 50K Gallon Inground Swimming Pool Pond Garden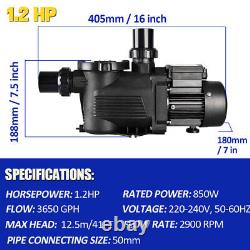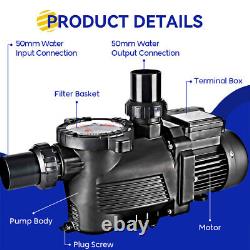 Pool Pump Swimming Water Pump 1.2HP / 3.0HP Circulation Filter Electric. The self-priming pool pump features a high-performance copper wired motor and impeller that provide high flow in an energy-efficient way. It runs on 220V-240V smoothly. The fan-cooled motor is completely waterproof, safe and reliable, offering continuous and quiet operation. The water pump comes with an extra-large filter basket and see-through lid which are detachable and easy to clean and maintain.
It can handle swimming pool chemicals. Strainer basket filters hairs, debris, leaves and impurities to prevent clogging. Drain plug at the bottom for easy drainage after use. Built-in automatic thermal overload protection will prevent the motor from overheating and burning. When the pump is dry running, it will shut off automatically. Airflow ventilation ensures cooler operation of the electric motor. This self-priming pump provides long service life. Perfect for in-ground and above-ground swimming pools, hot tubs, spas, etc. Suitable for pools up to 41,800 (3HP) gallons OR 29,800 gallons (1.2HP).
Max flow rate of 10038 GPH (3HP) / 3650 GPH (1.2HP). Suitable for salt, chorine, in-ground and above-ground pools. Corrosion-resistant marine grade aluminium alloy motor housing. Chemical-resistant thermoplastic filter cartridge tank body. Removable lint and hair trap/ filter.
Rated power: 2200 W / 3.0 HP, 850 W / 1.2HP. Pump rate: 10038 GPH / 3.0HP, 3650 GPH / 1.2HP. Head: 64FT / 3.0 HP, 41FT / 1.2 HP. Inner & outer pipe diameter: 50mm (1.2HP) , 60.3mm/63mm (3HP).
Product size: 3HP: 21.5"x8.7"x10.3", 1.2HP: 16"x7"x7.5". Weight: 3HP: 17kg, 1.2HP: 7.5kg. Protection Degree : Degree I, Thermally Protected Auto. Temperature of water handled: 35 degree Celsius. 1 pc 1.2HP or 3.0HP Water pump (Optional). 2 pcs 1.5 inch American standard internal thread connectors. Only qualified, licensed personnel should install pump and wiring.
Check that the mains power voltage and frequency correspond to those indicated on the identification plate affixed to the pump. Check that the pump shaft turns frely. Unscrew the pre-ilter cover and fll the pump with water up to the lower level of the suction. Screw firmly the pre-filter cover back in place. If the motor does not start, or if no water is extracted, refer to the table of possible failures and remedies on the instruction.
NEVER OPERATE THE PUMP WHEN NOT FILLED WITH WATER or with water inlet sucked. Wait for self-priming to take place.
The pump is correctly primed when the water level is just below the transparent cover. Our pumps require no particular servicing. It is nevertheless recommended to clean the pre-filter periodically. If the pump is not used over the winter period, it must be emptied (by removing the drain plug) to avoid damage throught. Freezing, cleaned and stored in a dry and well aired place.
But sometimes it is probably dependent on the express company. OR, you may choose to have a replacement. Our aim is to offer women a one-stop online shop for the best item solutions from around the world and.
Make product selection uncomplicated, providing clear information so you can make informed choices. Be unbiased and honest about what you can expect from each product.
Deliver quality item solutions from affordable, mid-range and premium luxury brands. Become the trusted friendly face of item, making it straightforward for our customers. If you feel that we are not achieving these objectives, then we genuinely welcome your feedback. To all of you - Thank you for shopping with us.
We try our best to reply to your emails as soon as possible, however, due to high volume of daily incoming emails and time zone difference; we may not be able to reply your emails immediately.