Swimming Pool Leaf Net Catcher Cover Rectangular Mesh Inground And Above Ground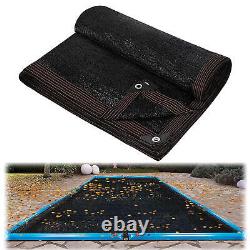 Our rectangular swimming pool leaf mesh is finer mesh to block small leaves better. It is made of high-quality polyethylene, which is strong and tight and not easy to tear.
Pool Leaf Net Cover is suitable for in-ground swimming pools. The finer mesh, tighter six-hemming, and larger seams of the Rectangular Pool Leaf Cover better keep the leaves away from the pool and make the cover more durable. As a result, even after extensive use, it is difficult to distort or destroy.
Leaf Net Pool Cover Inground installation is very simple, just cover the pool surface; you can pass the rope through the small hole in the net and tie the rope to the railing by the pool, or put it on the net cover Some hydration bags to hold it in place. This leaf mesh cover can meet your needs well. Our Swimming Pool Leaf Net is perfect for rectangular pools, whether in-ground or above-ground; whether you want to use it for home or commercial use. When the swimming pool is idle in autumn and winter, there will inevitably be a lot of fallen leaves, which is a bit annoying, so use this leaf mesh cover to catch most of the fallen leaves on the swimming pool. The pool cover is suitable for in-ground swimming pools.
Our Rectangular Pool Leaf Meshes have a finer mesh to better keep out small leaves. Product material: Made of high-quality high-quality polyethylene. Packing List: Leaf Net Cover1pcs.