GLI Cancun Pebble 28 Mil Inground Rectangle Swimming Pool Liner (Choose Size)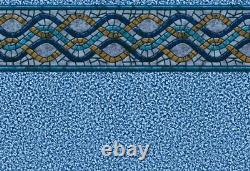 GLI Cancun Pebble 28 Mil In-Ground Rectangle Replacement Swimming Pool Liner (Choose Size). At Save More On Pool Supplies, we understand your concerns about installing an in-ground liner by yourself and that's why at Save More On Pool Supplies we have skilled in-ground liner specialists that can and will assist you every step of the way. Most homeowners are scared to install the liner themselves, but our experience is that homeowners often do a better job. Just make sure you re-measure your pool and verify the dimensions before submitting the measuring form over to us.
Our trained custom liner specialists will review the dimensions to make sure all the dimensions add up. Our liners are for straight rectangle pools, only.
Your shallow end can't exceed 42 and the deep end can't exceed 8' ft. Safety ledges, liner going overstep, roman-end shape, grecian, kidney, or custom shape liners may be a higher price.
The wall is always thicker gauge than the bottom. You want the higher grade gauge on the wall to protect the liner from sunlight and chemicals.
28 mil wall / 20 mil floor swimming pool liner. We offer 100% virgin vinyl that will stand up to harsh chemicals and sunlight. We are open 7 days a week so if you ever need assistance.
To download our Measuring Form.