Dolphin Premier Robotic Pool Cleaner with Multi-Media, SmartNav, & 3/yr warranty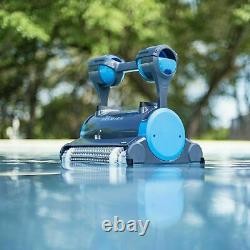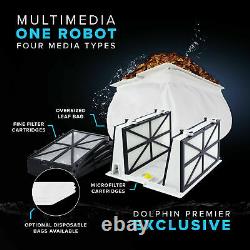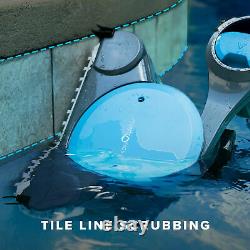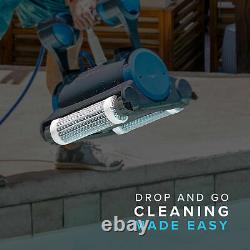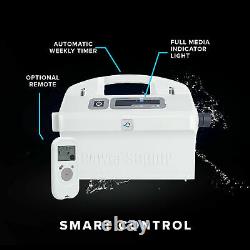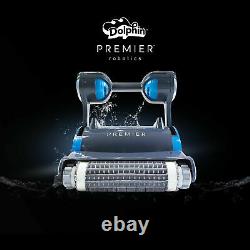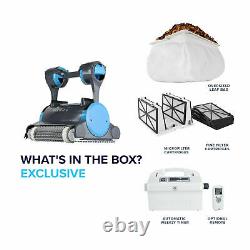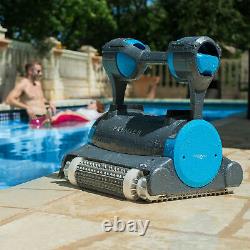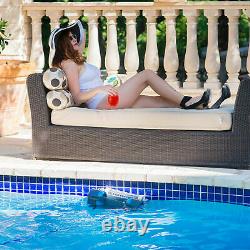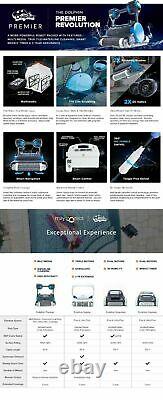 With groundbreaking design and a level of efficiency never seen before, the Dolphin Premier Robotic Pool Cleaner has redefined what you expect from a pool robot. Highly efficient, state-of-the-art DC motors and an ingenious Multi-Media filtration system deliver an exceptional user experience while reducing energy use up to 87%. The Dolphin Premier pool cleaner is manufactured by Maytronics, the pioneer and world leader in autonomous robotic pool cleaners. Established in 1983, Maytronics revolutionized the robotic pool cleaner industry and today, the Dolphin Premier is the inventory of what is possible.
When you unleash a Dolphin Premier into your pool, it doesn't just wonder aimlessly around like most pool cleaners. Smart-Nav software delivers highly optimized scanning and coverage for a new level of clean.
Premier calculates the optimal pattern for faster cleaning and improved efficiency. With the ability to sense ladders and drains, Premier pool cleaners won't get hung up like ordinary pool cleaners. Microprocessor controlled Pool Scanning ensures complete efficient pool surface coverage. One of the best robotic pool cleaners should have one of the best warranties.
Premier boasts a pair of larger, more powerful motors precisely controlled via microcontroller. Twin motors raise efficiency, and suction power. And its advanced, adaptive and highly adept chassis with dual stabilizers were engineered for an ideal balance of composure and confidence.
Because of this philosophy, Dolphin has succeeded in reducing the energy consumption of todays pool cleaner by nearly 90%. Famous for a high ration of torque to inertia, the DC motor can provide up to five time it's rated torque, without stalling. 24 volt DC motors require 87% less energy than the motors that power old fashioned pool cleaners. The Premier Dolphin pool cleaner runs on just 180 watts for an operating costs of just 5 cents per hour.
The Premier dolphin pool cleaner provides a whole new focus on sustainability. The first automatic pool cleaner was invented in 1974.
It required an old fashioned AC motor to push water through pipe to propel the cleaner and provide suction. Forcing water through long, small diameter pipes under high pressure creates friction and backpressure. Pool cleaners that run on conventional AC motors burn a staggering 1,470 watts of energy. Millions of pool owners still rely on inefficient suction-side and pressure-side pool cleaners that wastes hundreds of dollars each year.
The underwater 360 degrees cable swivel is one of the greatest engineering accomplishments in the pool cleaner industry. No surprisingly, Dolphin engineers invented the underwater robotic swivel. But you dont need to be an engineer to understand the benefits of tangle-free operation. For many years the twisting and turning of pool cleaners turned even the best engineered robots into a tangled web. Tangles destroy both performance and efficiency.
Each Dolphin Premier is fitted with a maintenance free swivel as standard. Motor type: Dual 24 volt brushless DC energy-efficient, long-life motors. Multi-media: Twin micro-filter cartridges included. Dual Cartridge and Oversized bag also included! Patented swivel: It's the world's only true cable swivel, a patented Dolphin exclusive.
Drive type: Direct drive means no belts to replace, ever. Brush type: Dual power rotating, scrubbing brushes for aggressive cleaning action.
Bi-directional: Vacuums even when in reverse for superior efficiency. Simply plug into a wall outlet and you're done.
Smart timer: Integrated multi-function timer allows daily, 3x or 2x per week cycles. LED alerts: Lets you know when the media should be emptied. Plug & Play: No installation required. Simply plug in and turn on.
Navigation: Microprocessor controlled SmartNav learns subject pool. Logic: Calculates optimal pattern for faster cleaning & improved efficiency.
Capabilities: Vacuums leaves, debris, pollen & green algae. Energy efficiency: Reduces energy costs up to 90% over AC powered cleaners. Surfaces: Power scrubs and vacuums doors, steps, walls, and water line. Dual ballasts: Delivers superior agility, manueverability & climbing performance. Air sensor: Learns water line elevation for superior water line cleaning.
Filtration rate: Micro filters 75 gallons per minute for remarkable water quality. Operating cost: Approximately 5 cents per hour. Electrical input: 115 volts, plugs into a standard wall outlet.
Cycle time: 2.5 hours. Faster cleaning for improved energy savings. Cable: 60 feet thermoplastic rubber cable reduces frictional drag. Compatibility: Gunite, concrete, tile, fiberglass or vinyl-lined up to 50 feet long.
Service type: DIY serviceable in 10-15 minutes by the dealer or owner. The item "Dolphin Premier Robotic Pool Cleaner with Multi-Media, SmartNav, & 3/yr warranty" is in sale since Sunday, May 2, 2021. This item is in the category "Home & Garden\Yard, Garden & Outdoor Living\Pools & Spas\Pool Cleaning Tools\Pool Cleaners & Vacuums". The seller is "harfa_7876" and is located in Blackshear, Georgia. This item can't be shipped, the buyer must pick up the item.
Water Type: All Water Types
Model: Dolphin Premier
Features: Waterline Cleaning
Manufacturer: Maytronics
Item Weight: 22 lb
Set Includes: Oversized Leaf Bag
Manufacturer Warranty: 3 years
Suitable For: On Ground Pools
Voltage: 120 V
MPN: 222112
Color: Blue
Brand: Dolphin
Type: Robotic Pool Cleaner