AquaStar SKR201 Skimmer for Inground Swimming Pool with Waterstop Face and Float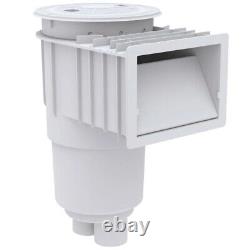 2 Inch threads for pressure testing (inside skimmer). Built-in overflow or fill line knock out.
Upper housing has pre-cut rebar cut outs with pre-drilled holes for tie wire. Skimmer Lid and Collar G154 UV tested. New weir clip lock secures the clips in the weir door. Weir plate with easy snap in and out locks. Large self-contained basket with lock-in feature (will not float).
Pre-installed O-ring for float assembly. Underwater dampers on face plate for noise reduction on weir plate - especially on windy days. Super strong engineered polymer upper housing. Extra heavy duty PVC lower unit (no transitional glue required).
2-1/2 Inch outside slip and 2 Inch inside slip (outside skimmer).